written by Ami Schaheera at Tuesday, February 17, 2009
Our 100th post! Just thought we tell you that hoho. On to the goodies, some are already pre-booked and made to order for restock!


Pinstripe Blazer & Destroyed Jeans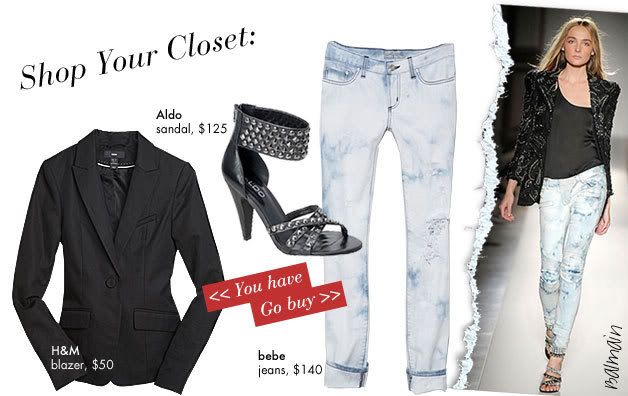 "Our next runway to real-way ensemble, courtesy of

Balmain

, is slightly edgier and in the vein of Kate Moss or Carine Roitfeld's glam-rock style. Despite the collection's luxe look, you can get the same sort of effortlessly cool outfit through a simple combination of to key pieces. First, we will be so bold as to assume that you can count a sharp black blazer as one of your closet's assents. With this necessary requirement in hand, just pair it with this season's popular, bleached-out, thrashed jeans. Throw it all together and voila! Last season's blazer looks relevant again and you've got a new, Balmain-inspired outfit!"

-- Whowhatwear.com 17/02/2009

What are the odds that WWW publishes an article the same day we debut our item of the week?! Like so spot on, trend spotted on Balmain, highly recommended by WWW and efficiently provided by The Shoplifters. We'll start with the blazer first.



The blazer is a wardrobe staple this season and if it is classic tailored like this one, it has a place in any look. Timeless piece must-have! Pinstripe prints, sharp shoulders, slim fitted sleeves with length that goes by over your wrist (something that we've always been keen about, think Serena Vanderwoodsen, Kate Moss), functional front pockets, and just a touch of vintage inspired gold buttons. We have it in two sizes and two colors; Grey & Black. Not restockable
Size S: shoulder 14", pit to pit 17", length 20.5".
Size M: shoulder 14.5", pit to pit 17.5", length 21".


RM50




Pinstripe Grey Size S: SOLD OUT


Pinstripe Black Size S: SOLD OUT
Pinstripe Grey Size M: SOLD OUT


Pinstripe Black Size M: SOLD OUT






Skinny-fit destroyed jeans in stonewashed blue indigo, a bit low waisted. One that Debbie Harry would wear back in those days. Back pockets, belt loops, all the essentials of a pair of perfect jeans. Get yours to be worn with that black blazer and slinky top and that badass studded heels or boots. Made of very high quality denim, not the thin material. Comes in multi-sizes as well, one for each of you ;)
Size 25 : waist(low) - 28", length - 35.5", fits UK4
Size 26 : waist(low) - 29", length - 36", fits UK6
Size 27 : waist(low) - 30", length - 36.5", fits UK8
Size 28 : waist(low) - 31", length - 37", fits UK10
Size 29 : waist (low) - 32", length - 37.5" fits UK12


Size 25: SOLD OUT


Size 26: SOLD OUT
Size 27: SOLD OUT


Size 28: SOLD OUT


Size 29: SOLD OUT

Shoplifter's Special: Thunderbolt Top




"TIC TREND: Sequins Galore. A trend that sparked from AW08 is still shining into SS09. Don't overdo it with too much bling. Instead, merely have one piece of clothing or accessory to complement your outfit"

--Tongue in Chic, Shopping Guide Feb 09.

Now, let's think about it. Sequins, check. Thunderbolt = revival print of the 80's, check. Open back, ala Topshop Realitee, check. Hidden pockets, well that's just handy! Now what's not too love? Also, lush material, satin. Ooh la love indeed. All you have to know now, it can fit from UK6 up to UK12. Length 29", chest width 42cm. Not restockable!


Thunderbolt Black: SOLD OUT




Thunderbolt White: SOLD OUT


Thunderbolt Blue: SOLD OUT
Thunderbolt Purple: SOLD OUT

Smarty Pants


Slim fit tailored pants are always a nice entity to have, but how about one that has been redesigned with a bit of harem pants flair? A perfect break-away from your usual tailored pants! Just another way to stand out in the crowd, made of emaculate mix cotton nylon material. Silky feel to the touch, awesome back pockets detailing. Best paired with just about anything, so perfect! Will also look good with knee high boots or a pair of doc marten ;) Not restockable.
Size S : waist(low) - 29", length - 36".
Size M : waist(low) - 31", length - 37".
Size L : waist(low) - 34", length - 38".


Smarty Pants Size S: SOLD OUT




Smarty Pants Size M: SOLD OUT




Smarty Pants Size L: SOLD OUT



p/s: We also have some yesterweeks stuff from our
Neue Fashion
collection. Check it out!
Love all around,
The Shoplifters
[get this widget]