written by The Shoplifters at Tuesday, April 21, 2009
Without further ado, we present to you!


Glitter Bubblegum Wedges

3 inch cascading wedges in yummy bubblegum colors! Love the light purple hue, different than any other wedges you've ever seen. Very very comfortable! Not restockable and sizing are similar to Vincci;
Size 35 / 4: SOLD
Size 36 / 5: AVAILABLE
Size 37 / 6: SOLD
Size 38 / 7: SOLD


RM65



Snake Waist-Cincher


Has holes to fit 28"-31". Loving the snake-skin pattern, very classy ;). Not restockable!


Dark Brown: SOLD




Cream: SOLD




Fire Red: AVAILABLE




Black: SOLD




RM28




Zolten Midnight Black


Our version of watery glossy black leggings is back! Come grab yours quick before we ran out of stock. Length is 32", maximum fit of 36.5" for your rear part, ehem! Made of slightly stretchable glossy metallic cotton. Not restockable!
RM36
Amirah R: SOLD
Nik Nurina: PAID


Zubye: SOLD




NurAkmal Y: SOLD


Liyana L: SOLD


Azura: SOLD


Kakak Zubye: SOLD


Loo SE: SOLD


Ima S: SOLD


Andrea - SOLD




Bella - RESERVED

(waiting list: Arhnue)




Sporty Jumpsuit


Sporty Jumpsuit with a gold zipper and adjustable waistband. Made of comfortable sweatshirt cotton, not too thick nor it is flimsy mind you. Pockets on each side of pants, and oversized flap collar all the way to the back. Stay in trend, as sporty is also one of the trend we've seen going around for Spring 2009 as reported on Style.com ;). Tagged as size S, best fits UK4-UK8. Measurement: Length = 45", Pit to pit = 15", Waist (low, lay flat) - 17.5". Not restockable!


RM55




Blue: SOLD




White: SOLD


Grey: AVAILABLE
Black: SOLD

Zolten Zipper


The cousin of Zolten Midnight Black, same length and type with an addition of a functional gold rusty zipper at the ankle! Can fit up to UK10. Not restockable until further notice.


SOLD x 11!



Cut-Out Bootie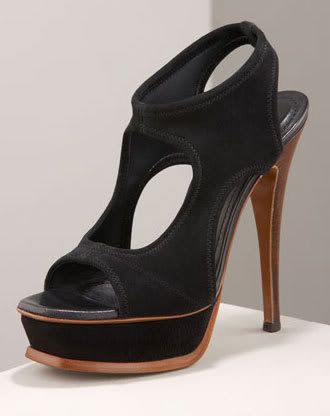 Suede cut-out bootie with 3 inch heels, peep-toe front. Uber comfortable and glamorous, can be paired up with just about anything. A design inspired by Yves Saint Laurent Cut-out Platform, selling at a whooping USD870! Not restockable and only available in limited sizes (similar to Vincci sizing) ;


Size 37 / 6 x 2: SOLD OUT


Size 38 / 7: SOLD OUT
SOLD OUT!

Drapesy Chiffon


Drapesy Chiffon as we called as it has a drapery effect of the chiffon falling from the shoulders and ever so subtly covering your arm as shown on the Brown color. Or you can even toss aside the drapes and wear it as a sleeveless top. Loving the triple button high-neck pleats. The lower part is smocked. Fits from UK4 up to a small UK12. Length is 25". We are even throwing in a similar colored spag for you! Not restockable.


White: SOLD




Brown: SOLD




Black: SOLD




Purple: SOLD




SOLD OUT!




p/s: We still have Drape Harem Pants up for grabs from previous
NF27
Till then, thanks again for the neverending support!
Love,
The Shoplifters
[get this widget]